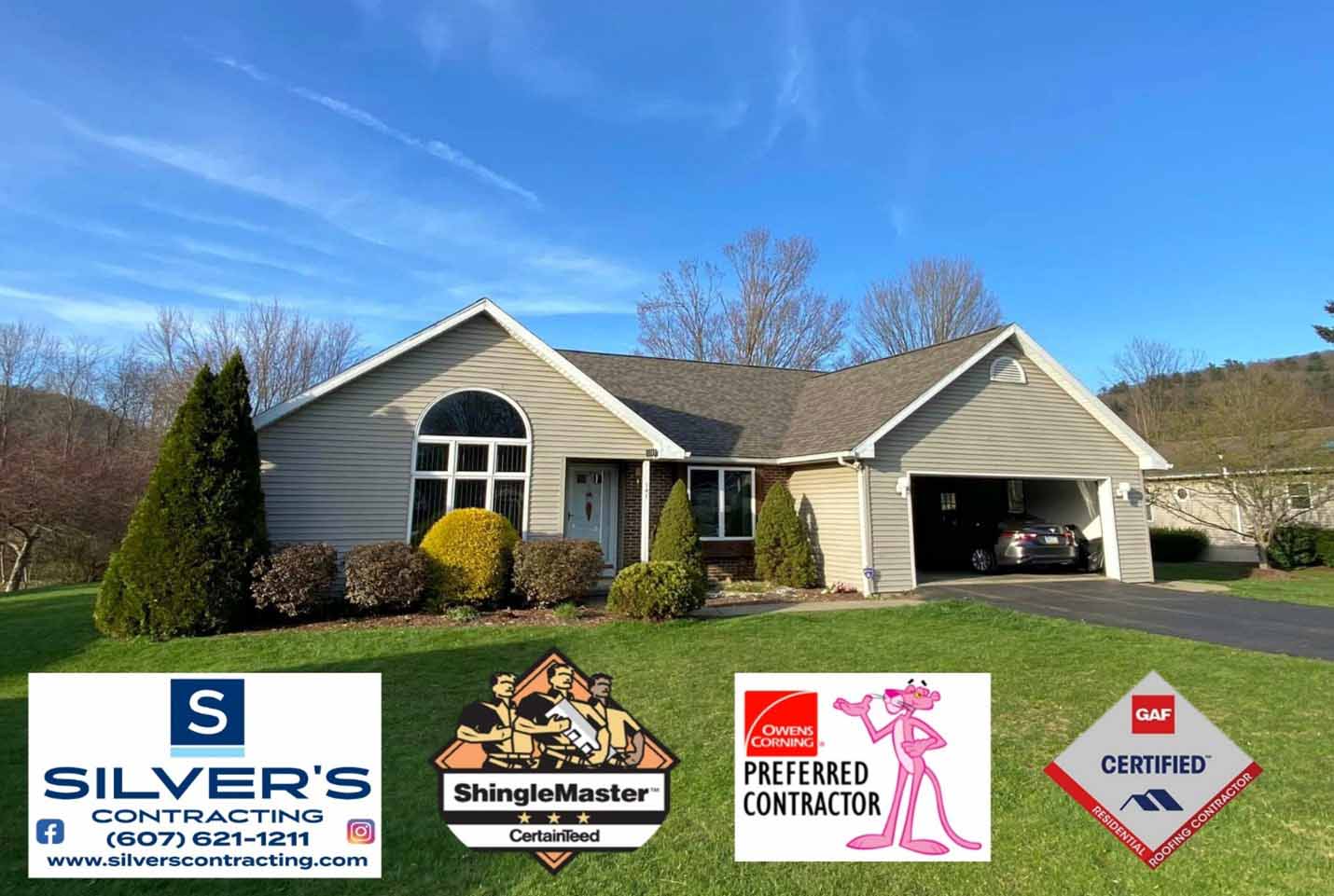 Your Roof Is Your Home's First Line of Defense
At Silver's Contracting, we don't stand behind our roofs; we stand under them. Our roofing team will make your roof a top priority. Whether you need some or all of your roof replaced, you can rely on us to do the job right. We'll make sure you and your property are appropriately "covered".
We specialize in asphalt shingle roofing, but we can work on most roof types. There is no problem too big for our roofing team to resolve. You'll be impressed by our quality craftsmanship and exceptional customer service.
Concerned about the cost of your roof repair or replacement project? We offer free estimates on all of our roofing services.
Architectural SHINGLE ROOFING
Learn the Benefits of Your Home's Shingles!
It's likely that you have shingles on your home's roof, because shingles provide many benefits to homeowners. Technology has come a long way, the architectural shingles manufactured today are more durably made, and last longer than ever before. At Silver's Contracting, we can help you learn more about your home's roofing options. We'll even let you know which roofing materials will withstand different types of weather. No matter what type of roof you install, your underlayment's and how they are installed alone will dictate how long your roofing system will stay water tight. Improperly installed roofs, may look nice initially, but an inferior application can lead to costly damage and frustration. Cutting corners on a roof can easily become a very costly mistake. At Silver's Contracting, we don't cut corners. Your trust and investment is important to us.
The roofing contractors' team of Silver's Contracting recommend asphalt shingles on your roof for a number of reasons. Asphalt shingles are a great choice for the following reasons, including but not limited to:
Cost Effective
Endless Color Options
Long Lifespan
Wind, Fire and Water-Resistant
10-15 year Mold and mildew growth Resistance.
Phenomenal Workmanship & Material Warranty Options
Roof REPLACEMENT Indicators and checklist
You don't want to wait for the next storm to blow through for you to realize your roof has a leak!
If your shingles are curling, cracking, lifted in areas or falling off your roof, it's a good indication that your roof is at the end of its life or is defective. More so, if you notice granules in your gutters, your shingles might be shedding from being worn. Silver's Contracting offers assessments for your roof to determine the type and extent of replacement needed.
If you're not sure whether you need roof replacement services, you'll want to think about and discuss these three things when having your roof inspected:
Age
Ventilation
Environmental Concerns
Roof Checklist:
How old is my roof?
We are highly trained to spot signs of your roof's age and can give you a reliable estimate on the age of your roof, if you don't already know.
Is my roof properly ventilated?
Proper ventilation is crucial to your roofing system's longevity. When improperly ventilated or your attic space isn't insulated correctly, your roofing system is prone to breaking down at a much more rapid rate than intended. Furthermore, if your roof isn't properly ventilated, it limits the reach of your warranty.
3. What environmental concerns could be degrading my roof's lifespan? Landscaping around a home can augment the look of the property. However, growth too close or hanging over a roof, can cause substantial damage and degradation to your roof. This usually happens slowly and goes unnoticed until too late. If your roof (and siding) doesn't receive ample sunlight to keep things dry, the resultant shade promotes the growth of mold and mildew. This is unsightly and can incur additional maintenance costs and premature failure. Word to the wise: plant the shade for your yard far enough away from your home. We can advise courses of action to mitigate these concerns from becoming bigger problems.
Indicators Your Roof is nearing the time for replacement:
Shingles are cracked/curled.
A normal sign of wear and tear, but it could also be a manufacturer defect that results in the early declination of the shingles' integrity.
Finding shingle granules in your gutters.
Another sign of normal wear & tear. However, if there's a significant amount of granules collecting in your gutters your shingles may need to be inspected.
Moss or Algae Growing on Your Roof.
The growth of Moss or Algae is indicative of your Roof not receiving enough sunlight. When a roof doesn't receive enough sun, it creates an ideal environment for plant life to take root or algae to grow. Fun Fact: Algae when allowed to grow on a roof feed off the limestone in the shingles which in turn deteriorates the shingles from the outside in.
Leaks and Water Damage.
If water has made its way inside your home, there is a good possibility that your roof and roof decking has been compromised and need to be replaced before it causes further damage to the interior of your home.
Age of Roof.
Roofs typically last for 20-30 years. Roofs installed prior to the mid to late 1990's are now coming to the end of their life - which may be why you're reading this right now. If you know your roof is approaching that age, it's time to start planning for a roof replacement. The good news is that roofs properly installed today use materials and underlayment's designed to offer a 30-year life cycle or more. The underlayment's and shingles produced today are far superior to the traditional 3-tabbed shingles and early vintage architectural style.
ROOF INSTALLATION
At Silver's Contracting, we want you to feel good about the roof over your head! Installing a new roof can update the entire appearance of your home and keep it energy-efficient. Moreover, a properly roofed structure, protects the home and its treasured contents. Each roof can be unique and there are products and techniques we can provide and perform to ensure your roof receives the right the right treatment.
We have the expertise to give your home the curb appeal you're looking for while protecting the people and possessions that reside beneath. Proper installation is very important to us, so as to keep your home and your family safe and dry for many, many years.
METAL ROOFING
Metal roofing comes in a variety of color options and there are two main design types commonly installed (standard ribbed & standing seam – see below). However, manufacturers are now making designer metal roof styles to meet consumer demand.
Pictured is the most standard type - ribbed roofing panel. Another popular option is Standing seam metal roofing.
Whatever type of roof metal you're leaning towards, it's important to know the differences and what the proper installation standards are.
There a common misconception these days that a metal roof can be simply slapped on overtop of an existing architectural roof system.
Although this way of doing things is less expensive and "easier", it has the high potential for issues down the road. The proper way to do any roof is always to tear off, inspect and make repairs to your roof deck before ever installing a new roof system, metal or otherwise.
Integrity matters and an ounce of prevention is always worth a pound of cure.
our primary metal roof options
COMMERCIAL & LOW SLOPE ROOFING
Rubber roofing is what we consider commercial roofing, as it's typically used in commercial settings. However, some residential applications exist for this product. Rubber roof systems are installed in conditions where there's virtually no slope to a particular roof structure.
If you have any pitch at all in a specific area, there are low slope roof products that we can use to keep costs down and still properly protect your home. Rolled roofing materials have come a long way over the last few decades. In low slope areas our "go-to" is a modified rolled roof system. A modified rolled roof system consists of both a base and cap sheet, self-adhered not only to the roof deck, but also to itself. This seal, on top of the protection of the standard underlayments that are installed prior to this step, make your low-slope roof a water tight facet. With this roof product we can typically match the shingle color of the home thus making it more aesthetically pleasing.
Seamless gutters on your home are a big deal!
Interestingly, they are an important yet often overlooked item by many homeowners.
We have solved many basement water infiltration issues, simply by identifying the problem and remediating via the installation of a proper seamless gutter system.
Seamless gutters and downspouts come in many different colors, and depending on the volume of water we need to manage, we have sizing options as well. If cleaning your gutter system is a concern, we also offer various leaf guard options to keep the leaf's out and the water in! A quality roof properly sheds water. A quality gutter system ensures the water that is initially kept out, doesn't creep back in.
From the roof down to the foundation – Silver's Contracting protects the investment of your home from the elements.